Gold
Gold Price in Real Time
Below you'll find the price of gold in real time. The current gold price is live but you can also choose longer time frames.
Price of Gold USD/OZ
Gold As An Investment
Gold is a often looked at as a very stable asset. This makes gold, in comparison, a safe investment. At times of financial crisis, when the markets show a lot of volatility, the price of gold usually goes up. This is since most investors usually crave a more stable development when the financial markets in general show a lot of instability.
Trading Gold with Binary Options
Binary options is an interesting way of investing in Gold. It does not take a large sum of money. Some binary brokers have a minimum investment of as little as $5. And if you're looking to invest larger amounts, then the max is above $100.000. Either way, binary options trading is different than a regular investment in gold.
With binaries you trade on the movement of the price, not in the commodity itself. You don't own any gold when trading binaries. Instead you place a bet on the movement of the price. If you're right you will receive a predetermined amount in winnings. If you loose, you loose your stake. With binary options you can never loose more than your stake. This makes binary options a good alternative also from a risk management perspective.
The negative side of things is that if you're wrong you will loose your stake. This is true even if after the option timeframe expires the price of gold reaches the level you thought it would. If you had owned gold, you would have made money as long as you didn't sell during the dip.
Still, as we see it, binary options are a great way to invest if you have an insight on the movement of the price of gold. You can almost double your investment should you be right. This does not happen to often when actually owning gold. Forex and CFD trading is also an alternative of course. However this is a more complicated investment and it involves a lot more risk than binary options do.
Regardless of which type of investment you decide on, always make sure to do your homework in terms of fundamentals. This will benefit you in the long run, always.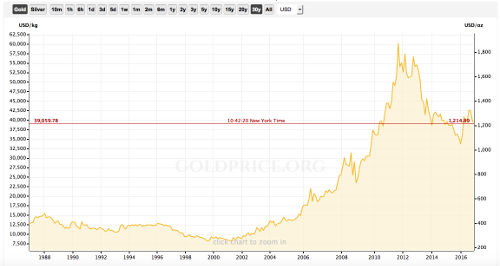 Gold Price - Development from 1988 to 2016. Chart from Goldprice.org