Best Binary Options Brokers
Below you'll find the best brokers for binary options trading in South Africa. All these brokers are licensed and regulated for trading binaries. Our aim is to bring you the very best and safest binary brokers online.
So, we have put together the most vital information on the brokers and we present this information in the most clear and comprehensible way possible. All to make your selection process as straightforward and simple as possible.
Further down the page, below the list of brokers, you'll find a very good checklist of valid factors when choosing a safe and reliable binary broker.
Safe Binary Option Trading South Africa
IQ Option

Min 1st Deposit

10 USD

Min / Max Investment

1 USD / 5 000 USD

Max Return:

Demo Account

Yes

90%

Possible to Trade ZAR

No

Payment Methods

| | | |
| --- | --- | --- |
| | Deposit | WithDrawal |
| Credit Card | Yes | Yes |
| Wire Transfer | Yes | Yes |
| Online Payments | Yes | Yes |

License

CySEC

License Number:
247/14

Online Since:
2012

| | |
| --- | --- |
| | RISK WARNING: YOUR CAPITAL MIGHT BE AT RISK |
What To Consider When Choosing A Binary Broker
Below you'll find the key essential factors that distinguish a reliable and trustworthty binary broker.
Checklist for Binary Options Brokers
1. Is The Trader Fully Licensed and Regulated?
Only trade with brokers that are fully licensed and regulated for trading. By complying to this you ensure that your trading is safe.
Legal Situation in South Africa
The current situation in South Africa is that trading binary options is legal but it is not yet regulated. Meaning you can't look for a license for trading binary options at the FSB (Financial Service Board of South Africa).
So what can you do to make sure that your trading is safe and regulated?
Well, you can look for a broker that is regulated and licensed for trading by another authority outside of South Africa. And then make sure that this license covers South Africa.
You will find that many binary brokers have a license from CySEC. CySEC is short for the Cyprus Securities and Exchange Commission and is a license and regulations authority located in Cyprus, Europe.
CySEC issues license for trading in European countries as well as other countries outside of Europe. South Africa is one of the countries which CySEC issues licenses for.
All brokers that have a license from CySEC gets awarded a license number. You can use this license number to cross check if the broker is licensed for trading in South Africa at the CySEC website. You can find the license number right here on this page under "License Number" for the brokers above.
So, on this page and in fact on this entire site we only present brokers that are fully licensed for trading binaries. This means that when choosing a broker presented on this site, you will trade with a fully licensed broker.
But please understand that it is the traders own responsibility to ensure that the broker of choice is fully licensed in the country of residence. So, please always check the license on the broker website as well as on the license authority website by cross checking the license number as described above.
2. Does The Broker Offer The Underlying Asset of Your Choice?
If you are interested in trading with the most common underlying assets as the major currency pairs, common commodities like gold, silver, oil or major stocks and indicies, then this is not an important point. This is since basically all brokers offer these assets. But, if you have a specific asset in mind that is not so common you have to make sure that the asset is offered for trading by the broker.
An example of a not so common asset is the South African Rand, the ZAR. Not all brokers offers the option of trading binary options with the ZAR. Which is why this is one of the deciding factors for the list above. And why we have also enclosed this information for each of the binary brokers above.
If you are unsure wether the broker offers a specific asset, check the broker website where this information is disclosed. You can also contact customer support by email, phone or chat to find this out.
3. Binary Option Platform
The binary platform, meaning the binary option software used when trading, is an important part. You need a platform that enables you to make smart and strategic decisions. You also need a platform that provides you with a good overview of the asset you're trading with and the information connected with it.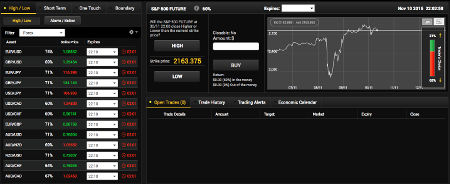 We have evaluated the platform of each of the binary brokers on this site and they are all proper, safe platforms with a good overview. But in the end, this decision is a subjective one. So, it's not a bad idea to check the different platforms out for yourself before making a final decision. This easily done by visiting the broker website or simply by opening a free demo account.
4. Customer Support
Customer support is important for a number of reasons. Obviously it's of great importance should any kind of problem arise. But, more commonly, trading related questions will arise and then it's of course a great benefit to have a customer support that is easily reached and that provide both swift and helpful answers.
Customer support is also a good way to determine the overall quality of the broker. A good and helpful customer support means a broker that cares about their traders. And that is an important.
5. Education and Access To Market Related Information
Every serious broker offers a great deal of education on their site. Much of this educational material is available for free without even opening an account. And all of the educational material is available to those who do open a free demo account.
To be well educated and carefully prepared is the first step towards successful binary options trading.
Binary Brokers Summary
In the end the choce of binary broker is a subjective decision. But the factors above are key factors that applies to the process of deciding which broker to sign up and trade with.
And it is important that you find a broker that you are comfortable with and that you know provides safe trading.
An important part of safe trading is that you will be asked by your broker to provide documents that confirms your identity and which country you live in. This is the brokers way of making sure that they can in fact offer you a safe and regulated trading experience.